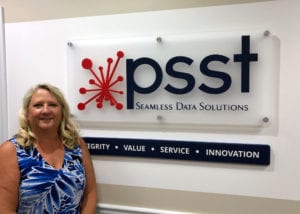 PSST, LLC is pleased to announce Jennifer Wooley, former director of Human Resources for Bullitt County Public Schools, Kentucky, has joined the company as a Client Success representative.
"Jennifer is a well-rounded K-12 administration professional," said Carl L. Williams, Sr., President and CEO of PSST, LLC. "Her deep expertise in HR will complement the Client Success team, which includes a number of former K-12 professionals at PSST who also have had careers in HR as well as Finance, Payroll and Benefit administration."
A 27-year K-12 career professional, Wooley recently retired after 21 years at Bullitt County Public Schools. She served 11 years as the district's Director of Human Resources. In addition to her Central Office role, Wooley has served as an elementary principal, elementary assistant principal, elementary teacher, and adjunct professor for Bellarmine University.
Her other professional experience includes serving as President of Kentucky Association of School Human Resource Managers (KASHRM), chairperson and co-chairperson for the American Association of School Personnel Administrators (AASPA) Professional Development Committee, and as a presenter at numerous association national conferences and boot camps.
"Like our other PSST team members who are former K-12 professionals, Jennifer's background will be invaluable as she assists PSST clients," Williams said. "She has walked in their shoes and understands the problems and issues that are unique to their roles in the K-12 Central Office. Jennifer is a great addition to PSST's depth and breadth of experience in the K-12 field."
Jennifer earned her Bachelor of Science in Early Childhood Education and Master of Education as a Reading Specialist at the University of Louisville.  She completed her Principal and Superintendent certification programs at Western Kentucky University. A native of Kentucky, Jennifer is married with two children and three (soon to be four) grandchildren.
---
Founded in 1990, PSST, LLC  provides data integration solutions that help school systems, municipalities and businesses increase the efficiency and effectiveness of human resources, finance, benefit and payroll management. Our solutions are customizable cloud-based and desktop applications that are seamless, intelligent and bi-directional.